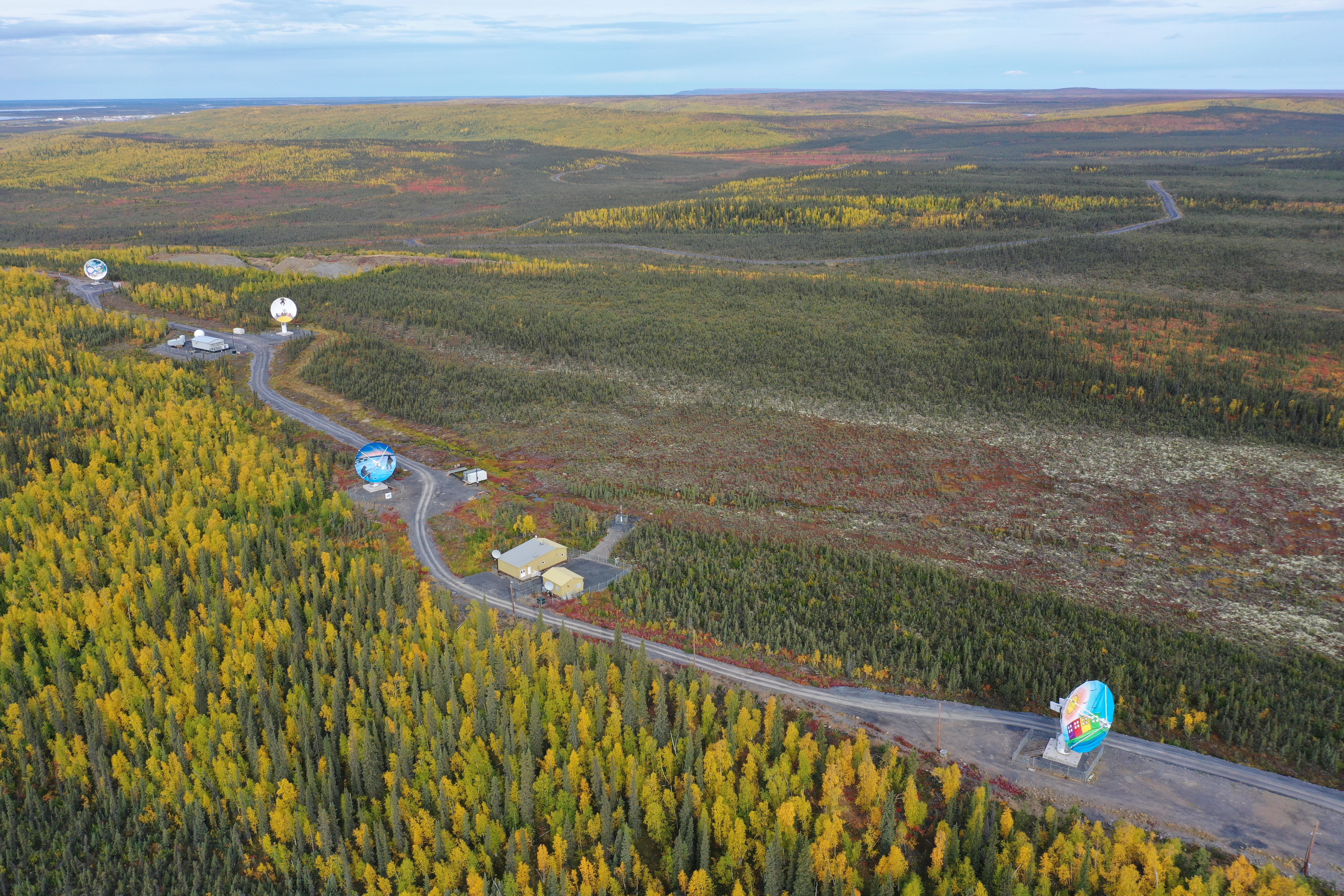 The Inuvik Satellite Station Facility (ISSF) is owned by the Government of Canada. It is located just off the Dempster Highway - roughly 3 km from the Mike Zubko Airport (YEV) and 10 km from Inuvik town center. There are four 13-metre remote sensing antennas at the ISSF. These are - in order from the ISSF entrance as shown in the picture above - owned and operated by France's Centre national d'études spatiales (CNES) in partnership with SSC (Swedish Space Corporation), DLR (the German Aerospace Centre), Natural Resources Canada, and the SSC.
Its location north of the Arctic Circle gives the ISSF a highly favourable position from which to track, send and receive data to and from polar-orbiting satellites to support the following uses:
Scientific research;
Environmental monitoring and climate change studies;
Mapping, weather and surveillance;
Emergency preparedness and response;
Shipping and navigation;
Sustainable economic development;
Northern sovereignty; and
Resource development.
News about the Inuvik Satellite Station Facility (ISSF)
The $85-million Mackenzie Valley Fibre Link (MVFL) - funded by the Government of the Northwest Territories will be operational in June 2017. The MVFL brings broadband Internet connectivity to Inuvik and communities along the Mackenzie Valley and allows satellite data from the ISSF to be transmitted quickly and efficiently to locations across the globe. A fibre link along the Dempster Highway from Inuvik into the Yukon's existing fibre optic lines is being planned and will provide redundancy for Yukon and NWT telecommunication infrastructure.
A new road has been built into "Phase Three" of the ISSF. This large section of land allows the ISSF to accommodate more antennas and infrastructure.
Honoring local and regional indigenous cultures, NRCan unveiled five antenna artwork installations on June 21, 2019, National Indigenous Day. Local artists, Sheree McLeod, Ronald English, Ronnie Simon, Anick Jenks and students of the East Three Secondary School Art Club together contributed artwork that was applied to four 13 metre antennas and one radome. As a whole, the art installation is one of the largest above the Artic Circle.
The Government of Canada awarded MacDonald, Dettwiler and Associates Ltd. (MDA) with a contract to provide In-Service Support for Natural Resources Canada's ground station network.
Together, these new investments along with the current infrastructure and other valuable assets located just 10 km away in the Town of Inuvik will support the Inuvik ISSF becoming a world-renowned high-tech facility, a hotspot for remote sensing technologies and a new hub for science and technology in the Town of Inuvik.
For General inquiries regarding the ISSF, Contact:
Jiri Raska
ISSF Site Manager
Natural Resources Canada
Government of Canada
jiri.raska@canada.ca
www.nrcan.gc.ca