2019 WINTER Season Arctic Market ABOUT US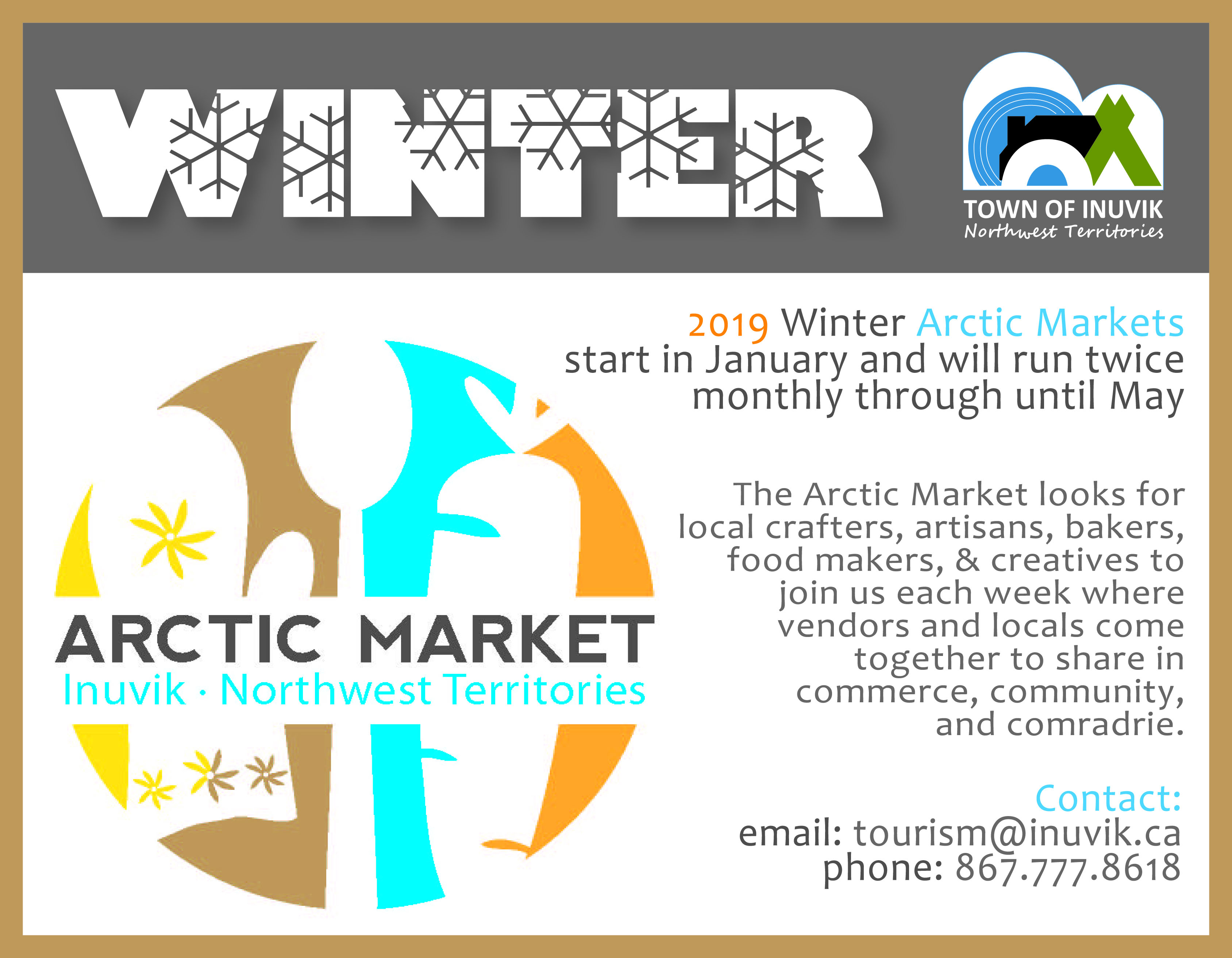 The WINTER Season Arctic Market runs every Saturday
from January to May from 11 am to 2 pm in the Community Hall located inside the Midnight Sun Complex.
This is a local market that promotes local growers, artisans, crafters, bakers, & chefs by providing a community retail venue for their products. The market is inclusive and welcomes everyone to participate.
2019 WINTER Arctic Market DATES
*note dates & times are subject to change
Saturday, January 5th & Sunday January 6th (Sunrise Festival)
Saturday, January 19th
Saturday, February 2nd
Saturday, February 23rd
Saturday, March 2nd
Saturday, March 16th
Saturday, April 6th (Muskrat Jamboree)
Saturday, April 20th
Saturday, May 11th
Saturday, May 25th
Download WINTER Arctic Market Dates Here
2019 WINTER Arctic Market TIMES
11 am to 2 pm
2019 WINTER Arctic Market INFORMATION FOR VENDORS
We prefer that vendors pre-register at the Town Office prior to each Saturday Market, however, if you are unable to phone, email or stop into the Town Office, we will take registrations on-site. Please keep in mind that the tables are limited and are provided on a first come, first serve basis. The Town Office is open from 9:00 am to 5:00 pm Monday-Friday. The cost is $5/vendor and an additional $5 if you require access to power. Please note that if you are selling food at the Arctic Market you are required to obtain your Temporary Food Establishment Permit from the GNWT Health Officer.
To register or for further information please contact us:
In person: Town of Inuvik, Town Office at 2 Firth Street.

By phone: 867.777.8618

By email: tourism@inuvik.ca
2019 WINTER Arctic Market FORMS & DOCUMENTS
2019 WINTER Arctic Market General Information
2019 WINTER Arctic Market Information for Food Vendors
2019 WINTER Arctic Market Registration Form
Temporary Food Establishment Permit
Is there any better way of starting off your weekend than with a visit to the local Arctic Market?
Looking for more information? You can find the Arctic Market on Facebook.