During the Winter months the Town of Inuvik hosts a selection of programs. See what is on offer below for the Winter months of 2020/21.
Due to recent events, our scheduled Winter activities will continue to take place, however, we will be following the GNWT Emerging Wisely protocols and restrictions will be in place so that our programs are safe for both our staff and residents.
Our Winter programs are complete, we will be back in the Summer for more events and activities, stay tuned on our Summer Programs Page and on our Town of Inuvik Facebook Page.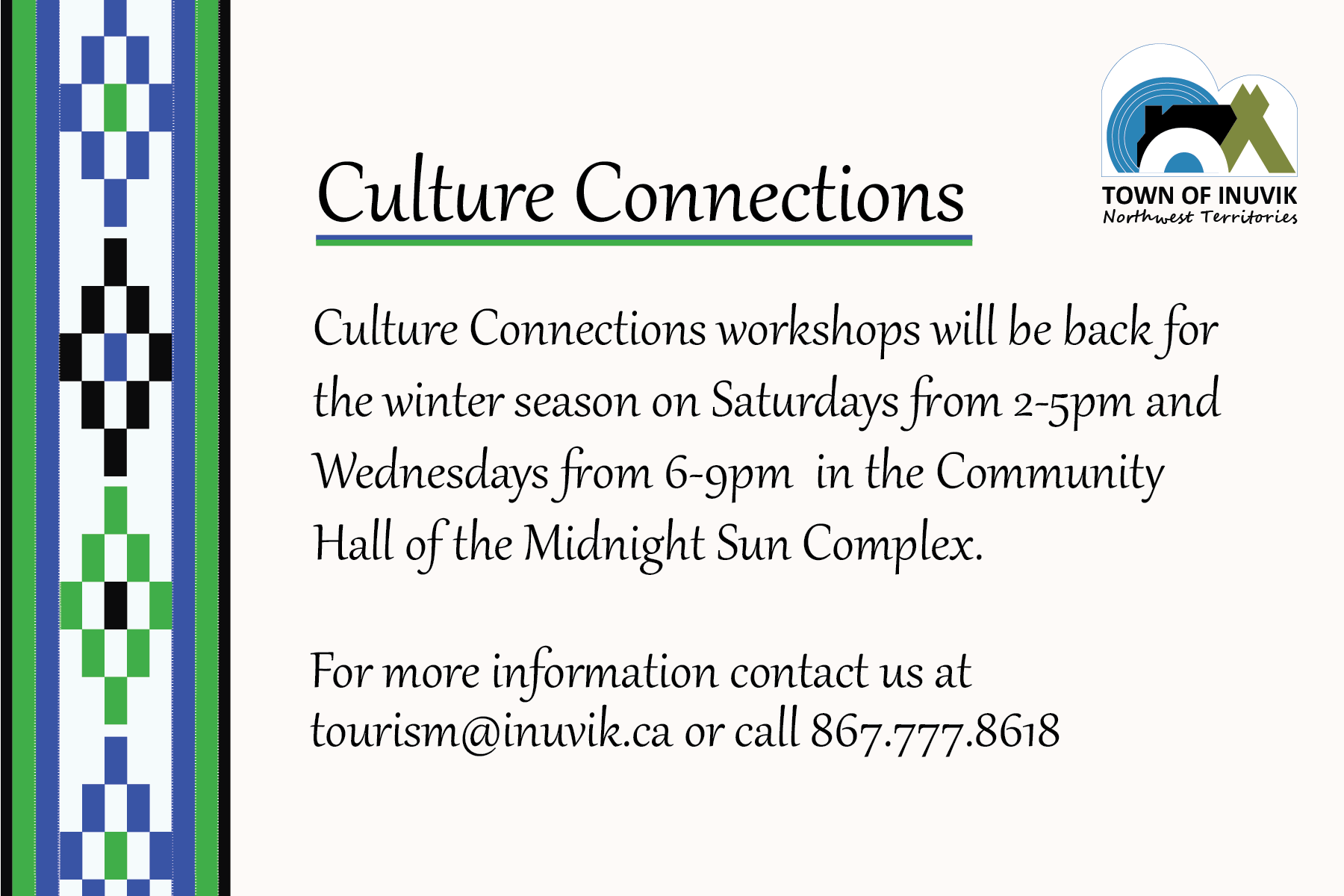 Winter Culture Connections Workshops
December to March
Wednesdays 6 p.m. to 9 p.m.
Saturdays 2 p.m. to 5 p.m.
Midnight Sun Complex
Limited Capacity and Pre-registration is required
---
Artisan Collective
The Town of Inuvik is proud to host the Artisan Collective Facebook Live Q&A sessions with local artisans. You can get to know one of our artisans from Inuvik, get to know what influences them, what they create all whilst learning more about Inuvik and the Northwest Territories.
Biweekly Saturdays
11 a.m. to 12 p.m.
If you have questions about the workshops or you would like to be a workshop leader, contact us at 867.777.8618 or email tourism@inuvik.ca
---
Small Business Week
Small Business Week takes place every October in Inuvik where we promote our local businesses and encourage our and reward residents for shopping local. It is also a chance to showcase local entrepreneurs.
Inuvik Small Business Week - October 17-23, 2021
Funding provided by: Innovation, Science, and Economic Development & the NWT Chamber
INFO FOR BUSINESSES
REGISTER YOUR SMALL BUSINESS HERE
Call for Small Businesses to Participate POSTER HERE
Deadline September 15, 2021
INFO FOR RESIDENTS
Save the Date - $30,000 in Prizes - POSTER HERE
Town of Inuvik - Web News Update & Program Details - Sept 15 - CLICK HERE
INFO FOR YOUTH
YOUTH CONTEST - SMALL BUSINESS WEEK
More information coming soon
CONTACT INFORMATION
Phone: 777.8618 or Email: tourism@inuvik.ca